YESHUA LOVES
Yeshua loves (Jesus loves) CLICK on image to PLAY.
PORN ADDICTED WORSHIP LEADER

ELECTROCUTED 12,000V, LOST LEGS
RECEIVE THE LOVE OF GOD SCRIPTURE
Yeshua loves us more than we know therefore be encouraged by His love, read the below, do what He said and listen to sermons. Through Yeshua, God heals people, He inspires them, gives them purpose, frees them from additions, saves them from suicide and made the plan to reconcile us to Him so that we can spend eternity with Him.
WHAT YESHUA SAID AND DID BECAUSE OF LOVE
Then Jesus beholding him loved him, and said unto him, One thing thou lackest: go thy way, sell whatsoever thou hast, and give to the poor, and thou shalt have treasure in heaven: and come, take up the cross, and follow me (Mar 10:21).
For God so loved the world, that he gave his only begotten Son, that whosoever believeth in him should not perish, but have everlasting life. (Joh 3:16)
For the Father loveth the Son, and sheweth him all things that himself doeth: and he will shew him greater works than these, that ye may marvel. (Joh 5:20)
Now Jesus loved Martha, and her sister, and Lazarus. (Joh 11:5)
Then said the Jews, Behold how he loved him! (Joh 11:36)
Now there was leaning on Jesus' bosom one of his disciples, whom Jesus loved. (Joh 13:23)
A new commandment I give unto you, That ye love one another; as I have loved you, that ye also love one another. (Joh 13:34)
If ye love me, keep my commandments. (Joh 14:15)
He that hath my commandments, and keepeth them, he it is that loveth me: and he that loveth me shall be loved of my Father, and I will love him, and will manifest myself to him. (Joh 14:21)
Jesus answered and said unto him, If a man love me, he will keep my words: and my Father will love him, and we will come unto him, and make our abode with him. (Joh 14:23)
As the Father hath loved me, so have I loved you: continue ye in my love. (Joh 15:9)
If ye keep my commandments, ye shall abide in my love; even as I have kept my Father's commandments, and abide in his love. (Joh 15:10)
This is my commandment, That ye love one another, as I have loved you. (Joh 15:12)
For the Father himself loveth you, because ye have loved me, and have believed that I came out from God. (Joh 16:27)
I in them, and thou in me, that they may be made perfect in one; and that the world may know that thou hast sent me, and hast loved them, as thou hast loved me. (Joh 17:23)
And I have declared unto them thy name, and will declare it: that the love wherewith thou hast loved me may be in them, and I in them. (Joh 17:26)
Behold, I will make them of the synagogue of Satan, which say they are Jews, and are not, but do lie; behold, I will make them to come and worship before thy feet, and to know that I have loved thee.  (Rev 3:9)
As many as I love, I rebuke and chasten: be zealous therefore, and repent.  (Rev 3:19)
Computerized rendering in Audio.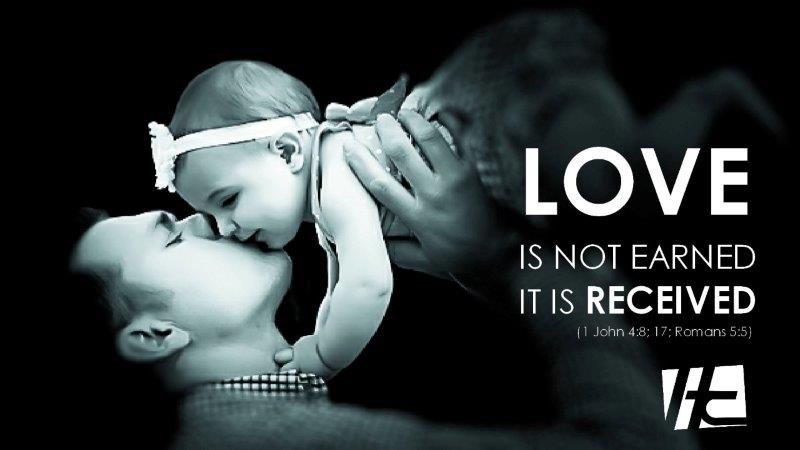 VERSES ON THE LOVE OF GOD
And hope maketh not ashamed; because the love of God is shed abroad in our hearts by the Holy Ghost which is given unto us. (Rom 5:5)
But God commendeth his love toward us, in that, while we were yet sinners, Christ died for us. (Rom 5:8)
Who shall separate us from the love of Christ? shall tribulation, or distress, or persecution, or famine, or nakedness, or peril, or sword? (Rom 8:35)
Nay, in all these things we are more than conquerors through him that loved us. (Rom 8:37)
Nor height, nor depth, nor any other creature, shall be able to separate us from the love of God, which is in Christ Jesus our Lord. (Rom 8:39)
For the love of Christ constraineth us; because we thus judge, that if one died for all, then were all dead: (2Co 5:14)
Finally, brethren, farewell. Be perfect, be of good comfort, be of one mind, live in peace; and the God of love and peace shall be with you. (2Co 13:11)
The grace of the Lord Jesus Christ, and the love of God, and the communion of the Holy Ghost, be with you all. Amen. (2Co 13:14)
I am crucified with Christ: nevertheless I live; yet not I, but Christ liveth in me: and the life which I now live in the flesh I live by the faith of the Son of God, who loved me, and gave himself for me. (Gal 2:20)
But God, who is rich in mercy, for his great love wherewith he loved us, (Eph 2:4)
And to know the love of Christ, which passeth knowledge, that ye might be filled with all the fulness of God. (Eph 3:19)
And walk in love, as Christ also hath loved us, and hath given himself for us an offering and a sacrifice to God for a sweetsmelling savour. (Eph 5:2)
Husbands, love your wives, even as Christ also loved the church, and gave himself for it; (Eph 5:25)
Now our Lord Jesus Christ himself, and God, even our Father, which hath loved us, and hath given us everlasting consolation and good hope through grace, (2Th 2:16)
For God hath not given us the spirit of fear; but of power, and of love, and of a sound mind. (2Ti 1:7)
But after that the kindness and love of God our Saviour toward man appeared, (Tit 3:4)
For whom the Lord loveth he chasteneth, and scourgeth every son whom he receiveth. (Heb 12:6)
But whoso keepeth his word, in him verily is the love of God perfected: hereby know we that we are in him. (1Jn 2:5)
Love not the world, neither the things that are in the world. If any man love the world, the love of the Father is not in him. (1Jn 2:15)
Behold, what manner of love the Father hath bestowed upon us, that we should be called the sons of God: therefore the world knoweth us not, because it knew him not. (1Jn 3:1)
Hereby perceive we the love of God, because he laid down his life for us: and we ought to lay down our lives for the brethren. (1Jn 3:16)
He that loveth not knoweth not God; for God is love. (1Jn 4:8)
In this was manifested the love of God toward us, because that God sent his only begotten Son into the world, that we might live through him. (1Jn 4:9)
Herein is love, not that we loved God, but that he loved us, and sent his Son to be the propitiation for our sins. (1Jn 4:10)
No man hath seen God at any time. If we love one another, God dwelleth in us, and his love is perfected in us. (1Jn 4:12)
And we have known and believed the love that God hath to us. God is love; and he that dwelleth in love dwelleth in God, and God in him. (1Jn 4:16)
There is no fear in love; but perfect love casteth out fear: because fear hath torment. He that feareth is not made perfect in love. (1Jn 4:18)
We love him, because he first loved us. (1Jn 4:19)
Whosoever believeth that Jesus is the Christ is born of God: and every one that loveth him that begat loveth him also that is begotten of him. (1Jn 5:1)
For this is the love of God, that we keep his commandments: and his commandments are not grievous. (1Jn 5:3)
Grace be with you, mercy, and peace, from God the Father, and from the Lord Jesus Christ, the Son of the Father, in truth and love. (2Jn 1:3)
Keep yourselves in the love of God, looking for the mercy of our Lord Jesus Christ unto eternal life. (Jud 1:21)
And from Jesus Christ, who is the faithful witness, and the first begotten of the dead, and the prince of the kings of the earth. Unto him that loved us, and washed us from our sins in his own blood (Rev 1:5).
YESHUA LOVES YOU MORE THAN YOU KNOW