THE MEANING OF LIFE
Discover what God has designed you for through a series of questions.
Fundamentally, the meaning of life is to personally know the only true God, and Yeshua whom He sent (John 17:3). But the way we get to know Him is by working with Him. Yeshua said, "Why call ye me, Lord, Lord, and do not the things which I say?" (Luke 6:46).
We all want Yeshua to say to us, "Well done, good and faithful servant; thou hast been faithful over a few things, I will make thee ruler over many things: enter thou into the joy of thy lord" (Matt. 25:23). "Redeeming the time, because the days are evil" (Eph. 5:16).
The meaning of life is literally found in Yeshua, through living by Him, for Him and making God known to others through Him. The how, and to whom we share, will vary by person. The Apostle Peter was sent primarily to the Jews, whereas Paul was sent to the Gentiles (Gal. 2:7; Rom. 15:16).
As you get started, the first thing to do is actually ask Your Heavenly Father to reveal your purpose (Matt. 7:7-8). Fast no food for at least 24hours (Acts 13:2-4), and even better, fasting food and water (Acts 9:9).
Cemeteries are filled with people who never tapped into the potential God gave them through Yeshua. Therefore, let us all be good and faithful servants, utilizing our time, family, resources and talents to glorify Him.
OVERALL MISSION
Every Believer mission is to, Go and teach all nations, baptizing them in the name of the Father, and of the Son, and of the Holy Ghost. Teaching them to observe all things whatsoever Yeshua had commanded His disciples (Matt. 28:19-20). We are to open the eyes to the truth, and to help turn them from darkness to light, and from the power of Satan unto God, that they may receive forgiveness of sins" (Acts 26:18). All visions we have are based on this very foundation.
To understand how you specifically can share the great commission, here are some soul searching questions that will expose this. They will help you determine your visions.
QUESTIONS TO IDENTIFY AND DO YOUR VISIONS
Without a vision, the people perish (Prov. 29:18). A vision helps one stay focused on important things and therefore will not have the time to get offended by others, or spent time in the lust of the flesh, or envy, or have the love of money etc. But are dependent and reliant on God. "The light of the body is the eye: if therefore thine eye be single, thy whole body shall be full of light. But if thine eye be evil, thy whole body shall be full of darkness. If therefore the light that is in thee be darkness, how great is that darkness! No man can serve two masters: for either he will hate the one, and love the other; or else he will hold to the one, and despise the other. Ye cannot serve God and mammon" (Matt. 6:22-24).
Let's get started!
Soul Searching: Try write down 4 answers to each of the following questions (minimum of 3):

1. What purpose has God revealed to you, either directly, in a dream, or from scripture, and do you have scripture for it?
2. Is there an area that the Lord has helped you excel in, that you know is beyond your natural ability?

3. What is the biggest problem you have faced, where the Lord has helped you overcome (Mark 5:19)?

4. At the present time, what is it that you hate, or think is people's greatest barrier to live for Yeshua. For example, the thing that David hated, God had him solve (1 Sam 17:26)?

Clarity: Circle what you believe is the strongest answer to each question above, the one you have the most passion for. Therefore you will have 5 answers circled.
Vision: Next to each of the strongest answers, write 1-2 sentences on how you can use this to help others closer to the Lord, and that Yeshua gets the glory.

However, before moving on, check that they do not go against the commandments of God.

Prioritize: Select the first 2 visions to work on by using 3 criteria:

1 – Which would be the quickest to implement or execute.
2 – Just thinking about it, what makes you the most excited.
3 – Which shows the most love of Yeshua to individuals.

Now that you have done this, only move on if you have inner peace with the 2 selected visions (Gen. 41:16). If there is no inner peace, re-write the other visions, or select another.

Goals: Finally, write down 3 goals for each of the 2 visions. These would be goals you can achieve within the next month, and start working on them daily.
In conclusion, revisit this exercise every 2-3 years as visions may change based on situations and progress. "A man's heart deviseth his way: but the Lord directeth his steps" (Prov. 16:9).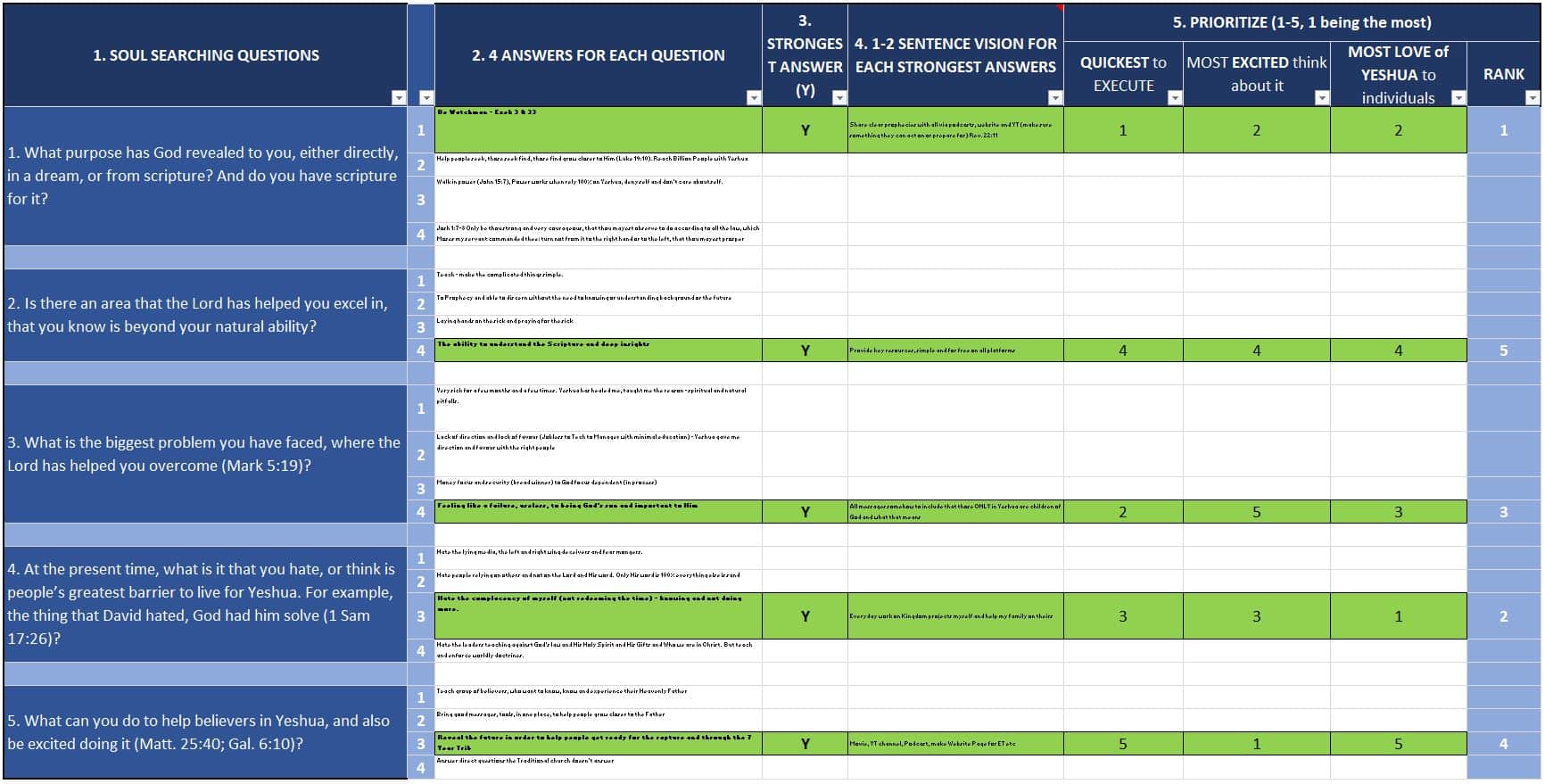 The above is an example of the layout, the text has been minimized for confidentiality.
GIVE US OUR DAILY BREAD
Be Prayer: Always ask your Heavenly Father for guidance (Psa. 37:5; Prov. 3:4-9; Prov. 16:9), and acknowledge His help to others and therefore He will direct your path (Prov. 3:6).
Be Led by the Holy Spirit: Therefore walk in peace, be agile enough to take a break and work on other Kingdom projects, or help others with their kingdom projects, or the next person God puts across your path.
GREAT RESOURCES ON PURPOSE
Here are some powerful motivational sermons that will inspire you on the journey. There are many sermons and messages out there, so find those that are impactful – at nakedlife.org and on a podcast.